Custom family stick figure pictures (2)
I love this part of the year . . . when I can finally share many of the pictures/portraits I drew during my busy Christmas season. 
You can look at my first Christmas pictures I drew in 2011 and see I have come quite a ways. I hope it keeps getting better each year. 
I thought this time I would share the comments my customers wrote when I sent them their picture. This is really why I draw pictures. I love how excited they get, and the way they express it over e-mail (usually lots of exclamations points!!!). I walk around my kitchen with a fat head for about 15 minutes and then go back to cleaning up spilled cheerios off the floor. Oh ya! The good life.
This family asked me to draw their Christmas card. They couldn't all get together for a picture so this was the next best thing!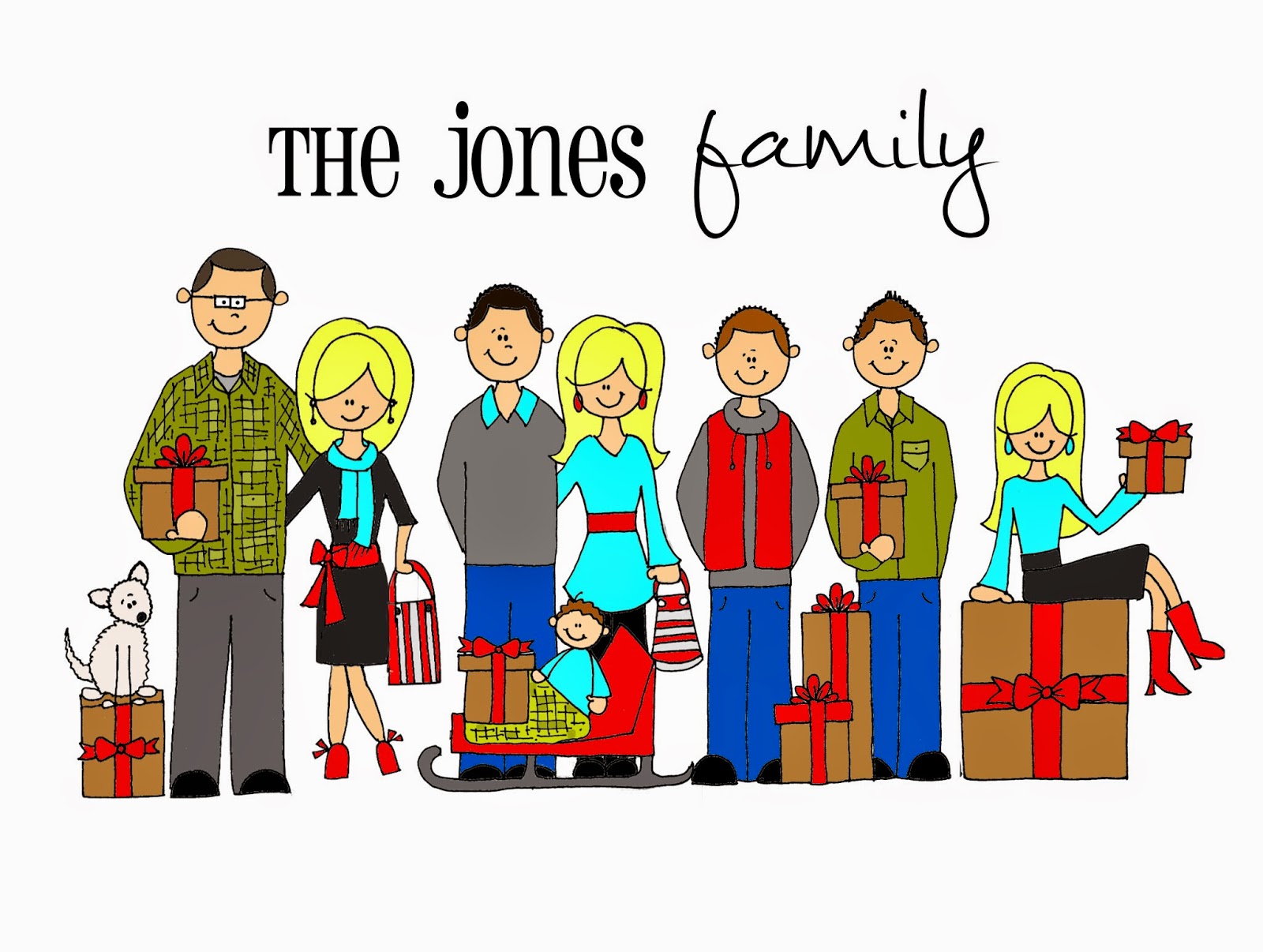 "You are so incredibly talented! Love, love, love!! I am over the moon with our family Christmas Card you created!! I had high expectations and you far surpassed them!!" - Jones family
I loved drawing each of this cute family member's interests. The fish is probably my favorite.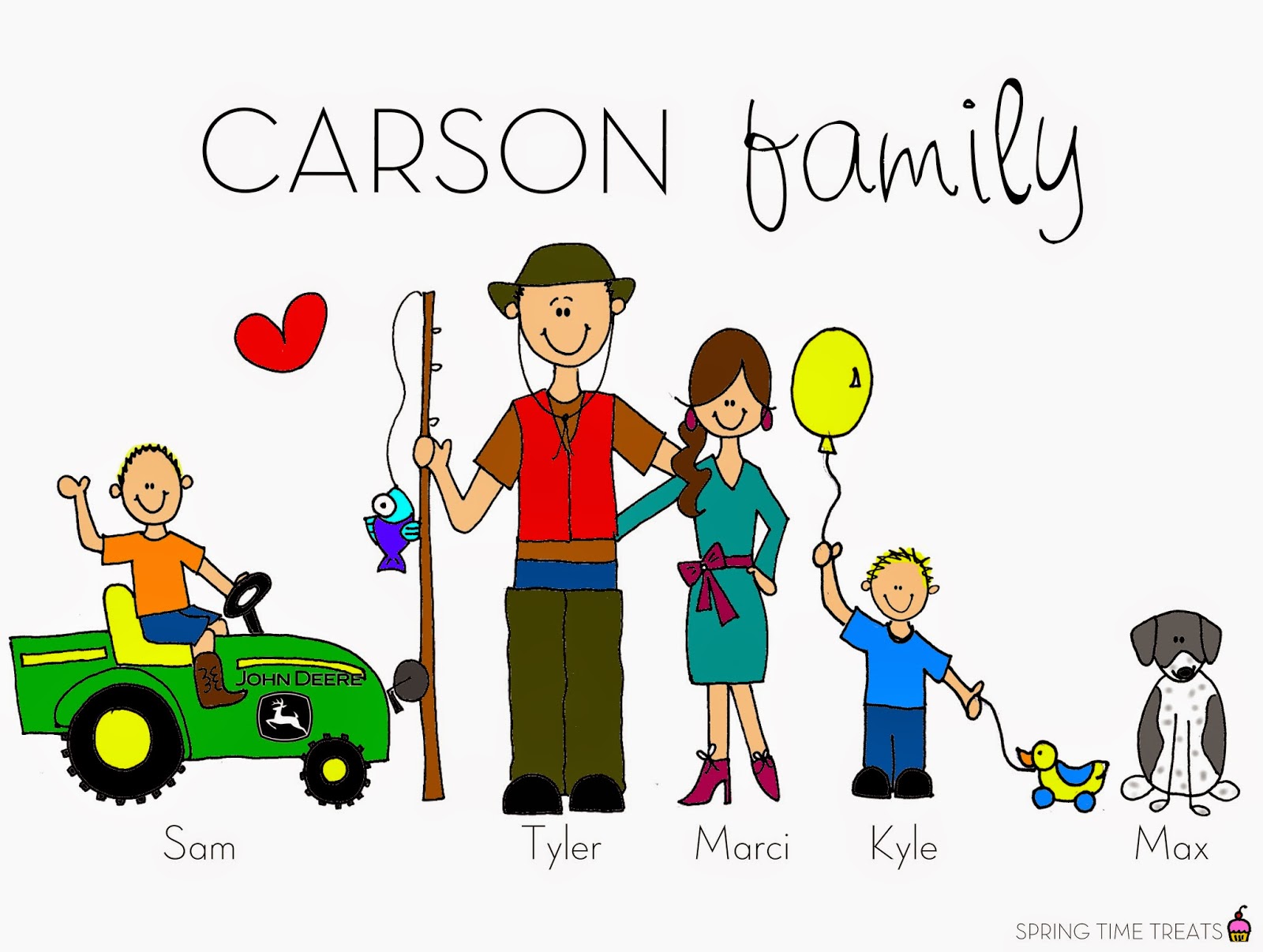 "I love our picture! You made us all look fabulous! . . . My little boy was so proud that he was riding his tractor with his boots on. This is such a treasure for me." - Carson family
This cute family has twin boys, one with hair, and one without. Don't forget their other two adorable boys.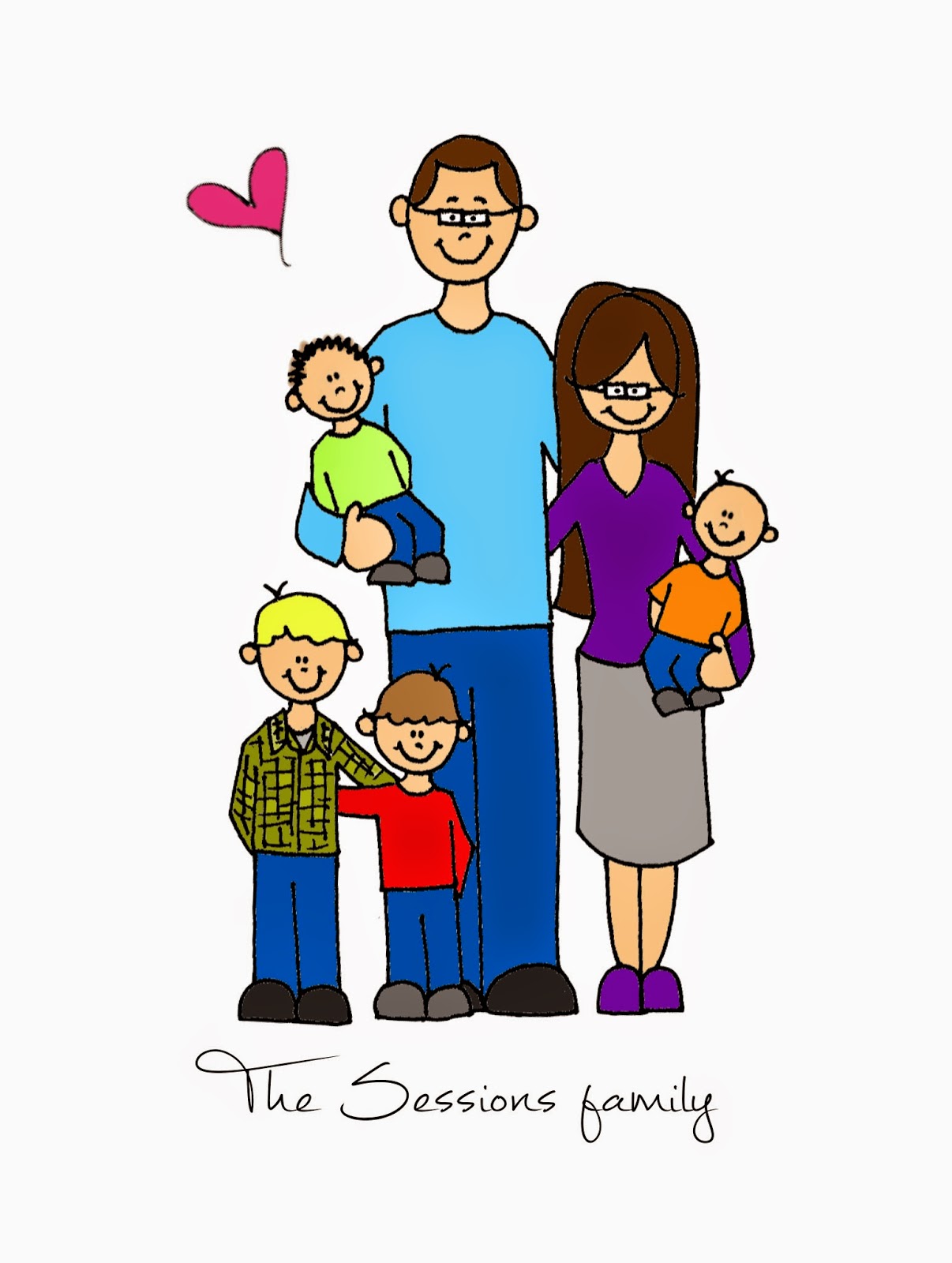 "It's perfect!!! I love it, thanks!!" - Rebecca A.
I especially love to draw for family. My husband's brother's Boise-State-football-loving family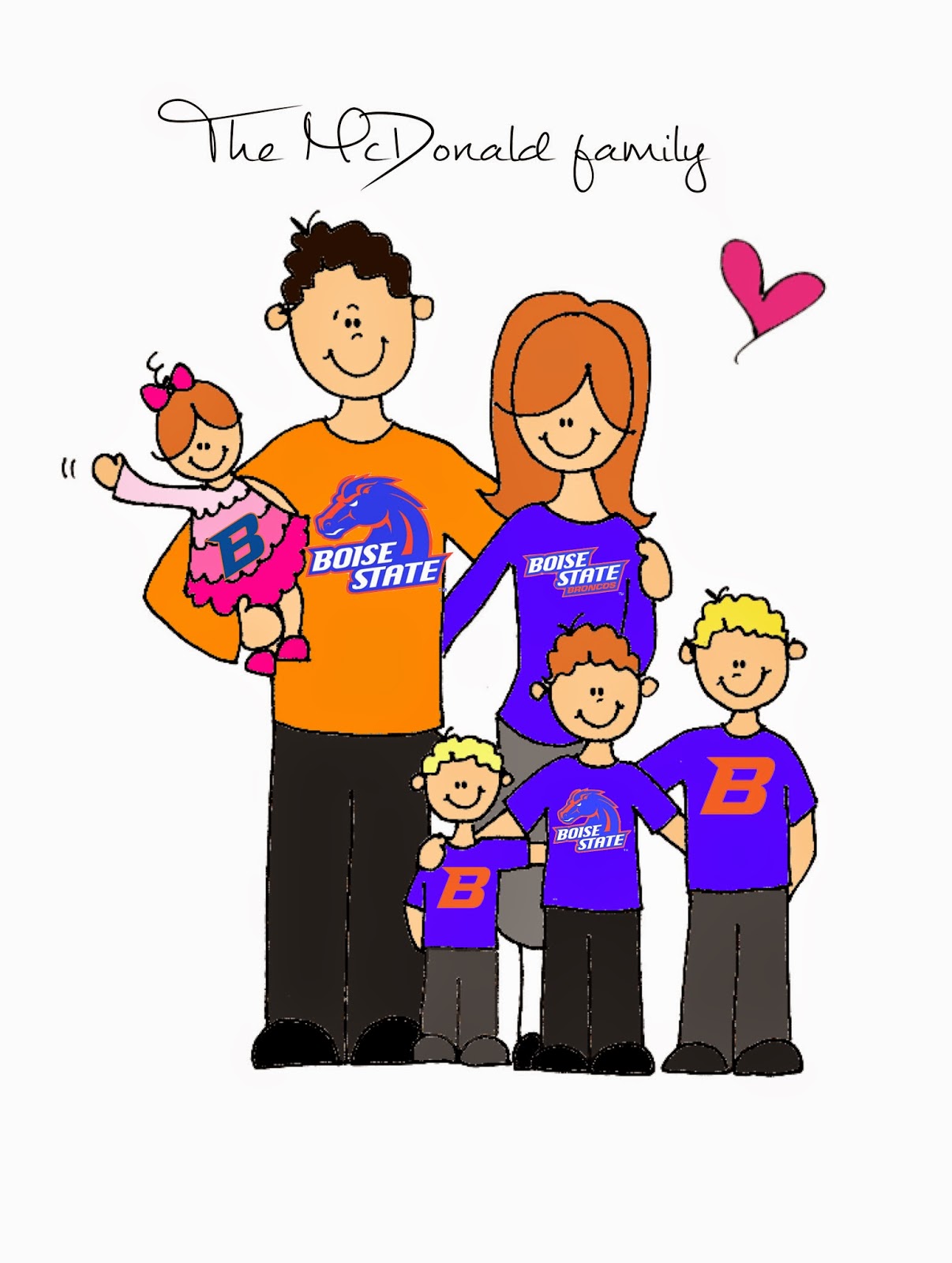 "We LOVE the picture!" - Jamie McDonald
Big family pictures are a lot more work because I usually have to work from several family pictures, trying to figure out which kids belong to who, make sure heights are right and then somehow squish them all in there. BUT they are often the most rewarding. There are usually always little inside jokes thrown in, such as the Alabama shirts, the dragon fly, the Croatian flag, and the 80's glasses. I love how big families can tease and love each other.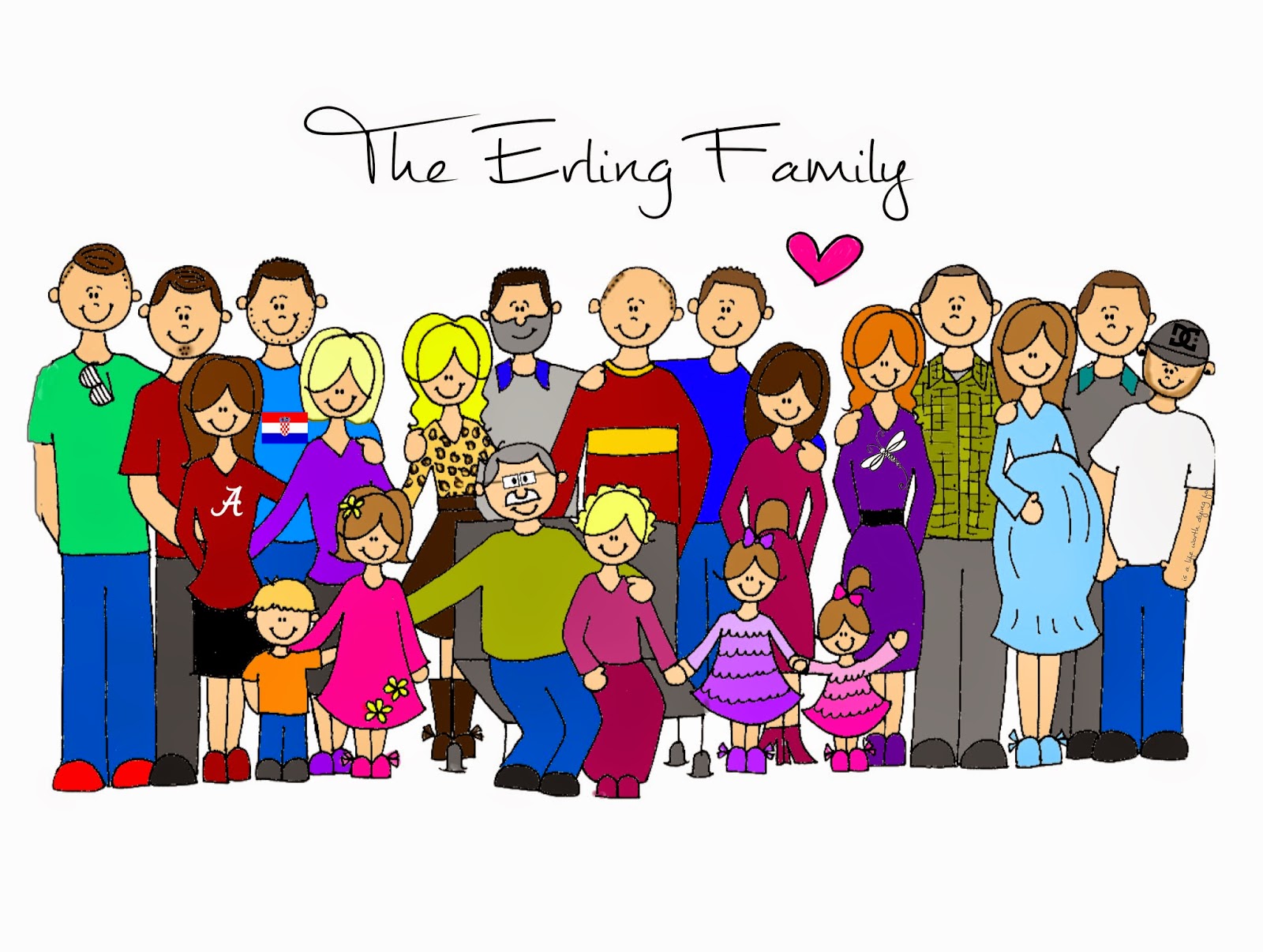 "Your pictures are soooo adorable! I was given my grandparents for Secret Santa this year and I could think of was a family photo . . . but one where I didn't need to get everyone in one place and this is perfect :)" - Erling family
I loved all the children in this picture, especially the family on the right, 6 children, including twins. So adorable!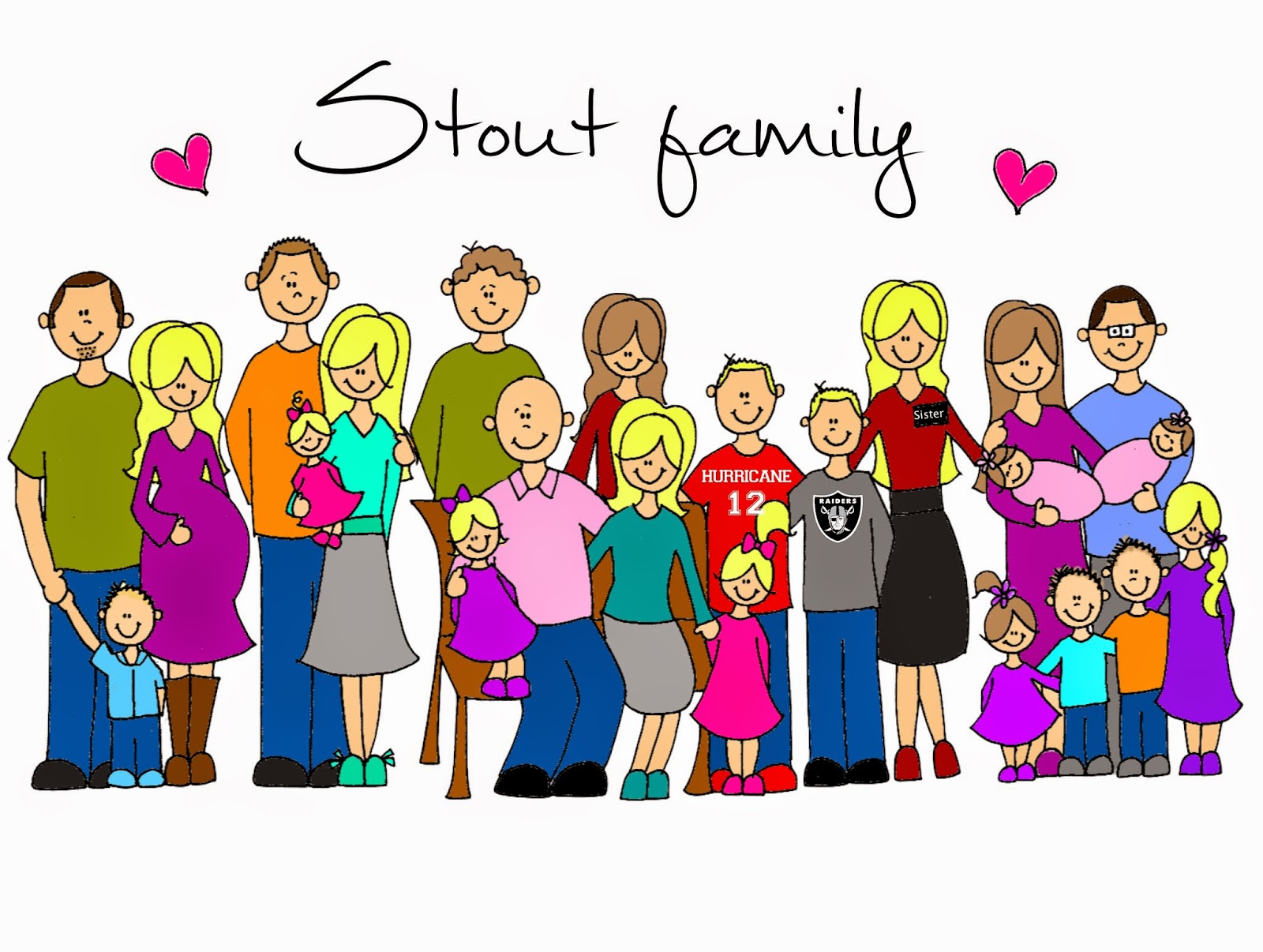 "I keep squealing over this, I love it so much!!" - Sara Stout
Have I said how much I love drawing pregnant ladies?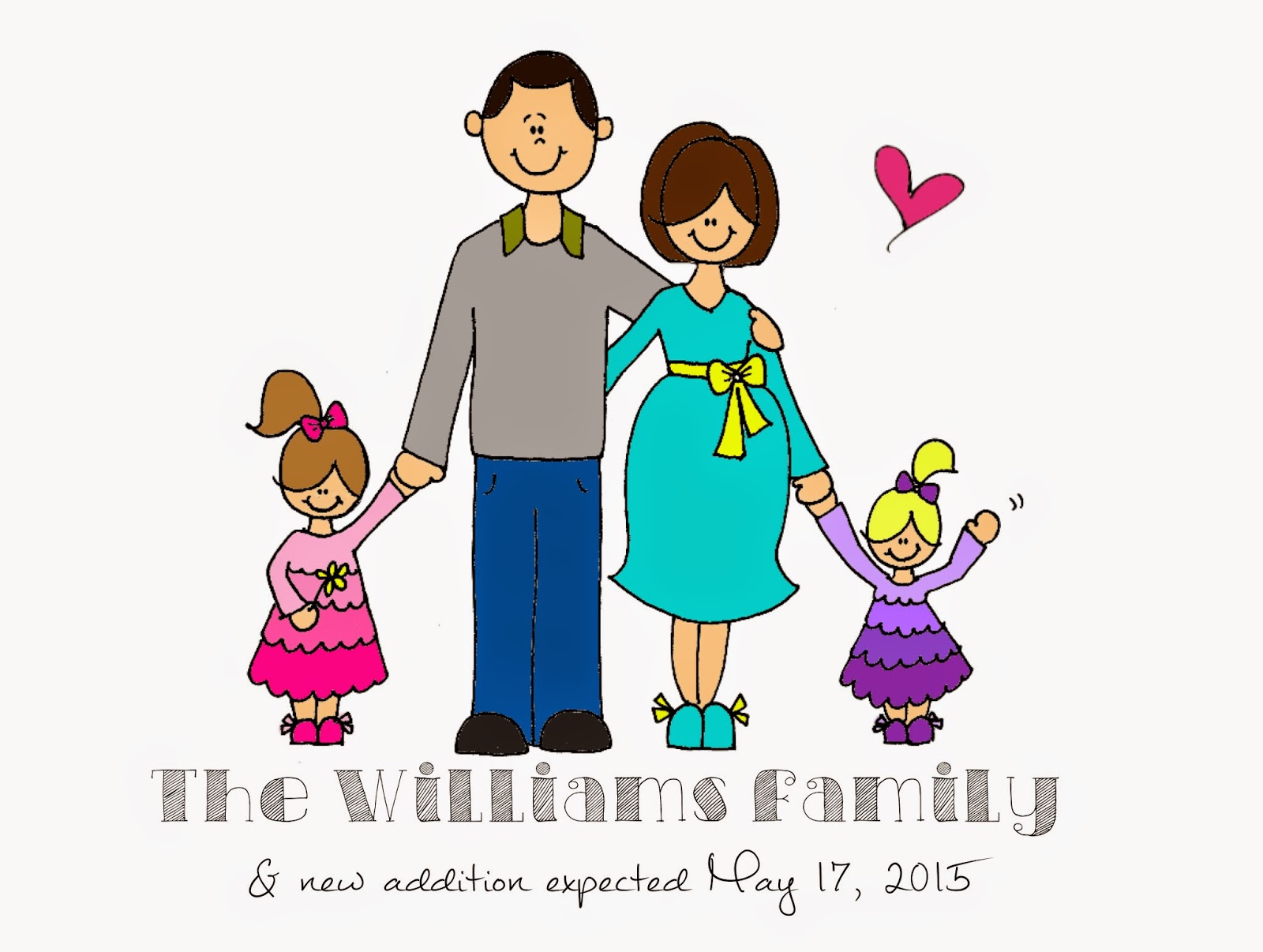 "Oh, I loved the picture you drew of our family, it's actually framed and sitting on the mantle." - Williams family
I tried something a little different with these next two. I drew backgrounds. I like how they turned out. 
I drew this picture for my best friend's grandparents. I have met these sweet people several times and they are just wonderful.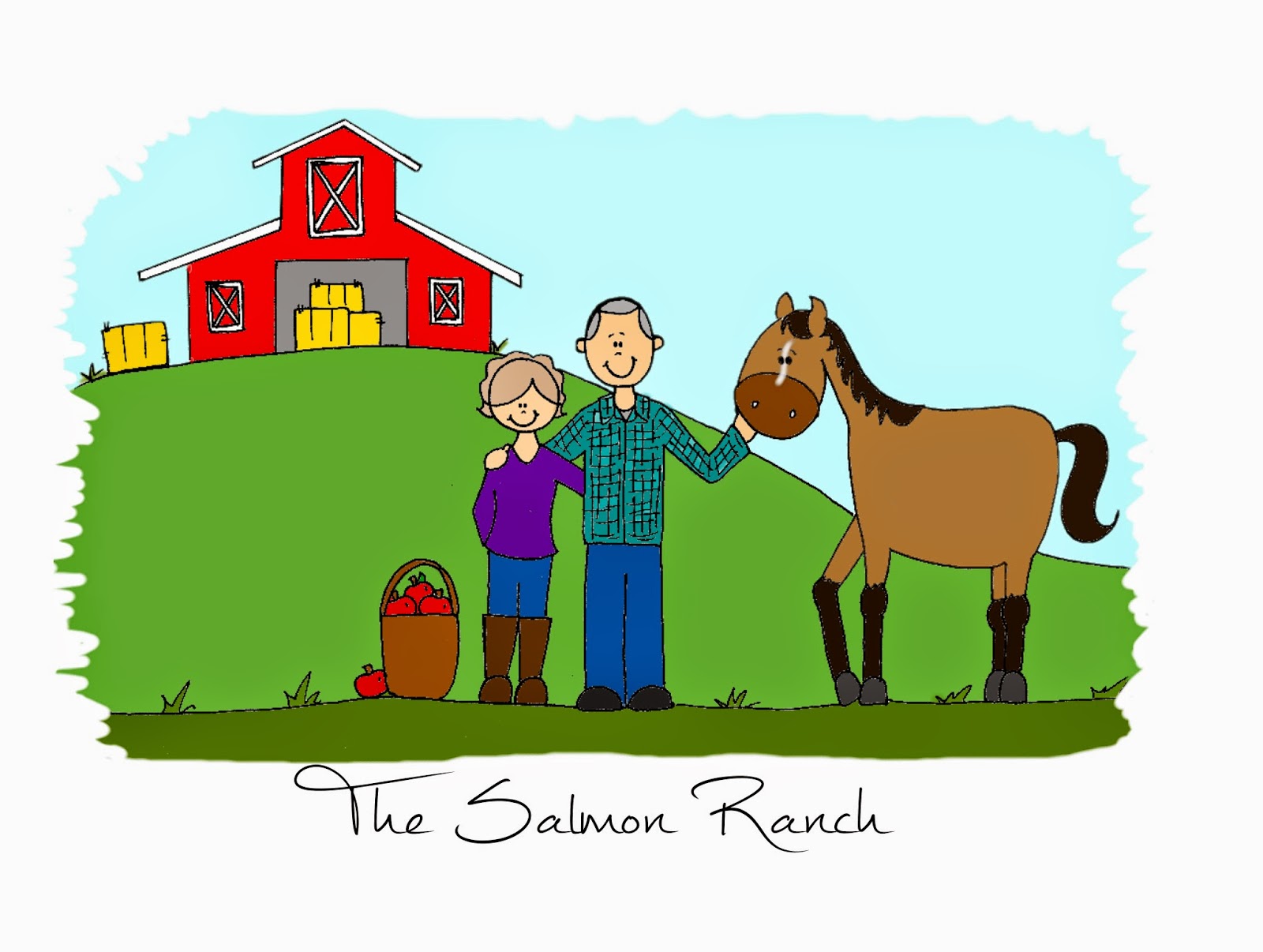 "I'm in love with this" - Megan B. 
Nanci ordered this picture as a gift for her sister Leslie who just got married. They live the good life in Maui with their awesome animals, and Hutch is a bass guitar player.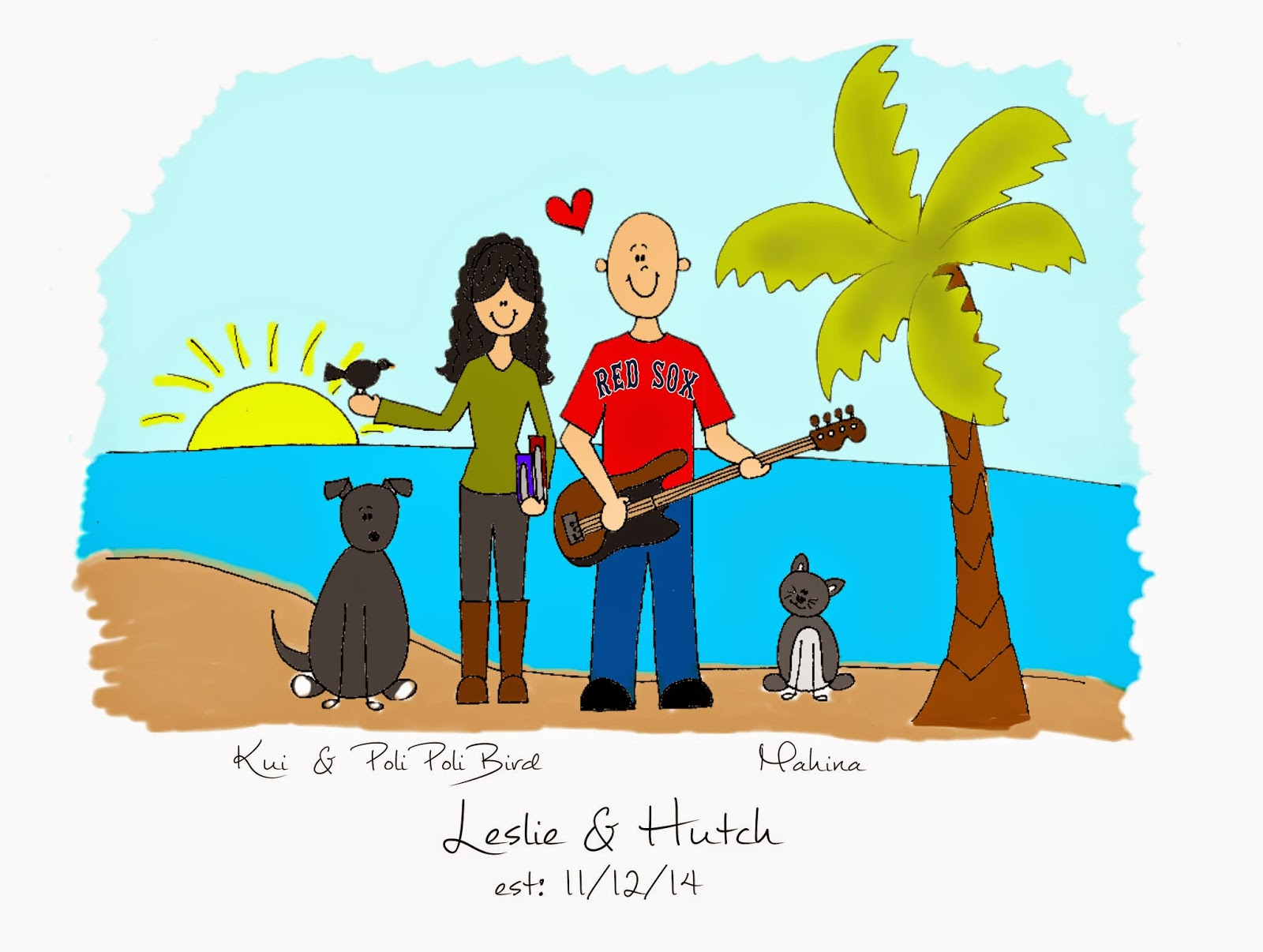 "I love this so much!!!!! They love love love it!!!!!!" Soooo happy." - Nanci
She also wrote a nice etsy review. "
I love love love the portrait that Spring drew for my sister and her new hubby. She was communicative throughout the process and the entire process was really really quick. I now want Spring to draw one for myself of my family (of all animals). This really is such a nice gift because, honestly, who really needs another scarf :). P.S. My sister and hubby absolutely loved it. Thanks again Spring!!"
Another beach scene, Erica loves to cook and John rides a Harley motorcycle and they both love the beach and their sweet dog Daisy. I'm particularly fond of the black leather jacket.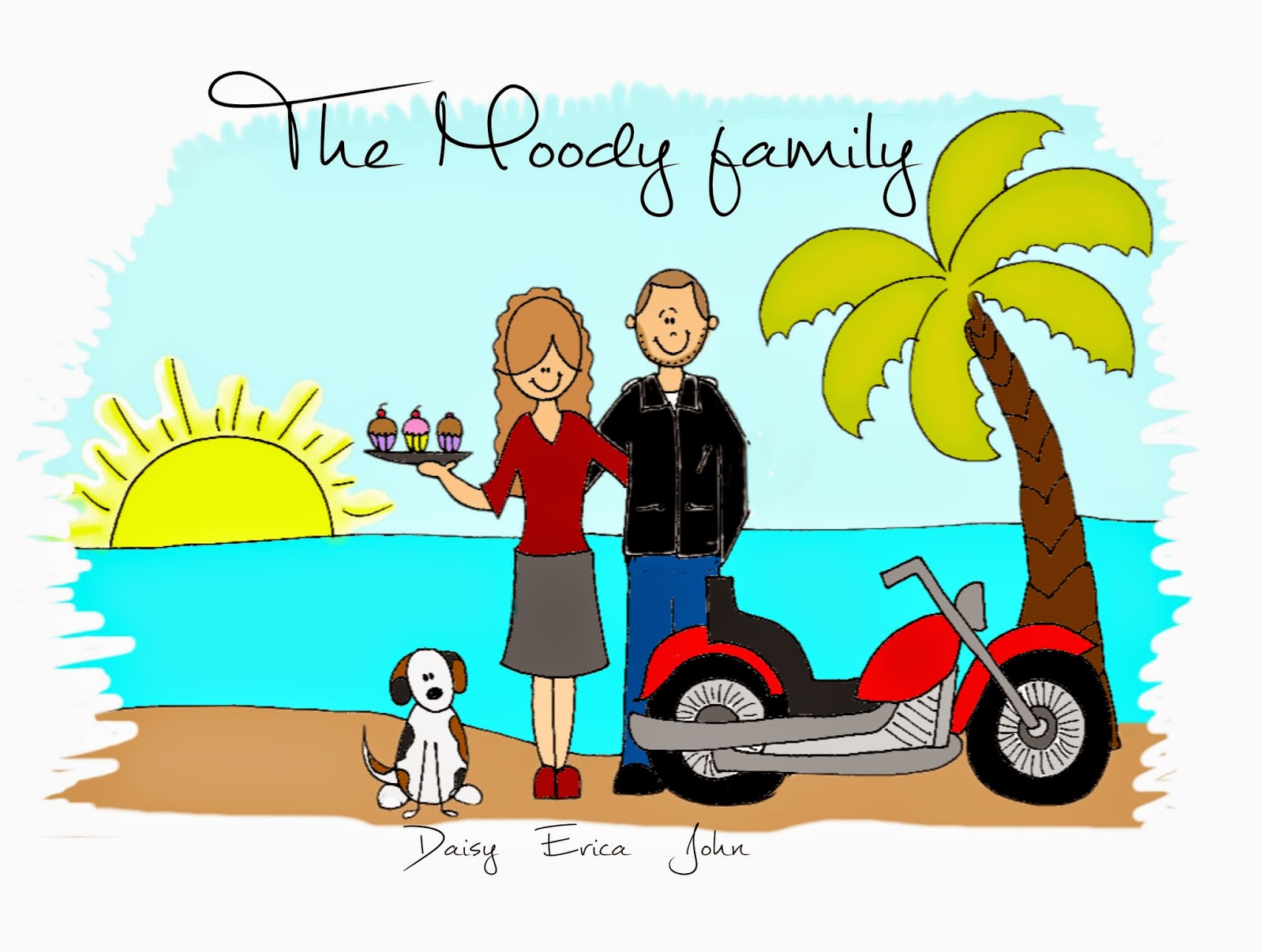 "
We love the picture of our family it was an easier and quicker process than I anticipated. Not only do we have this picture framed on the wall, we plan to use it for our Christmas cards in the future. Thanks a bunch!" 
- The Moody Family
I love drawing, but even more, I love getting to know new people, drawing their beautiful families, and making wonderful friends in the process.