Custom family stick figure pictures (1)
In December I worked my little fingers to the bone drawing my "customer family portraits."

Oh how my great grandmothers would be ashamed of my description of hard work. They spent hours washing clothes by hand, cooking from scratch, and working the farm. But hey! My right hand had several sore calluses.

 
Now that Christmas is over I can unveil some of these doodle portraits with permission from the families. 
Most of the time I never meet the people who ask me to draw their families. They usually send me a picture and a description. I always say the more details the better. I can't always fit in every hobby, job, interest, etc but I sure try. After several hours of sketching, re-sketching, editing and final touches I feel like I know these families, and would love to be a fly on the wall in their home and see if I captured their personalities. 
So without further ado I'd like to introduce you to these marvelous families.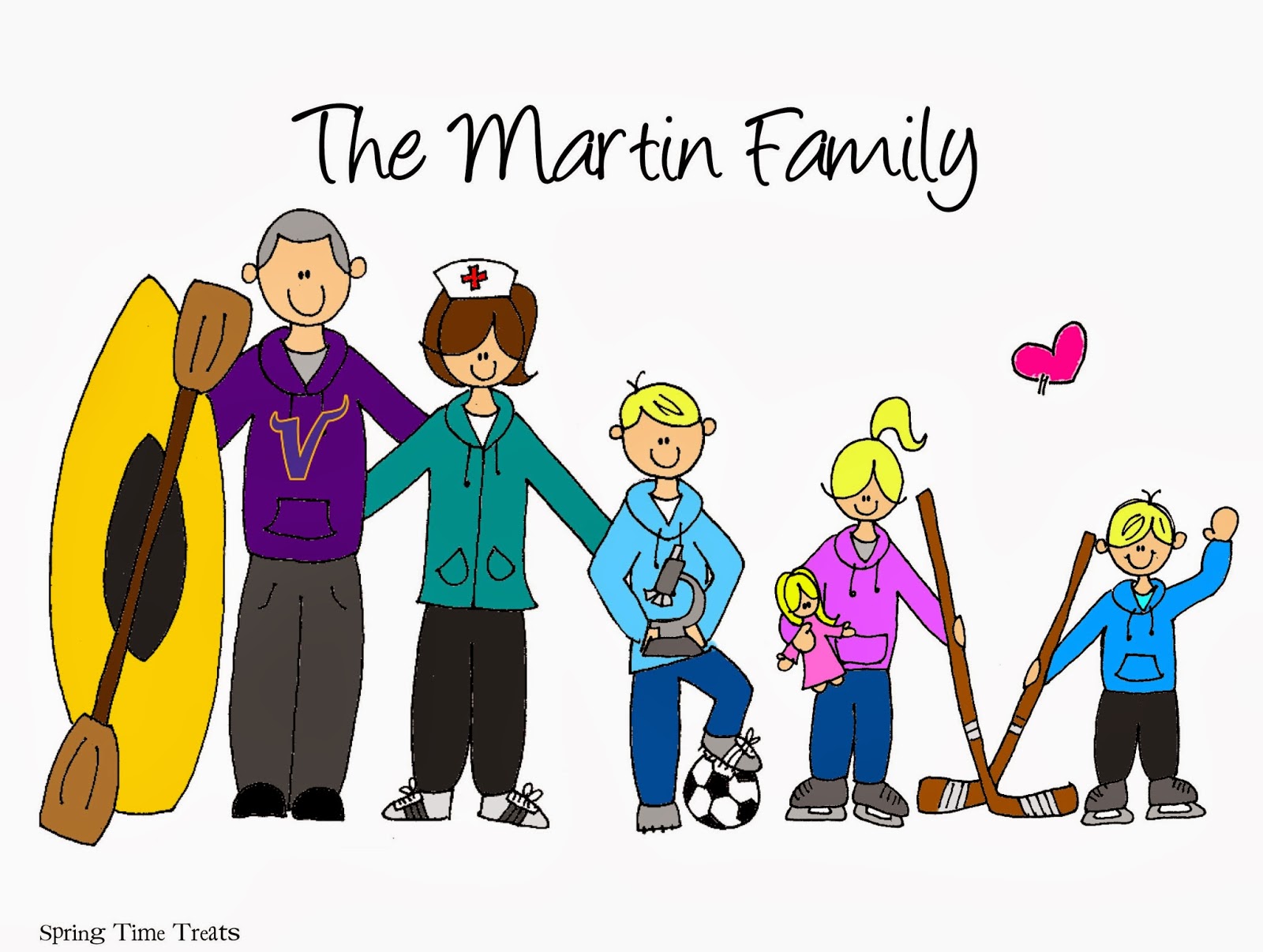 The Martin family loves the outdoors in South Dakota (hence the warm sweatshirts). The dad loves the Vikings and kayaking. The mom is a nurse and loves to run. The son likes science and soccer and the daughter likes hockey (you go girl!) and her American Girl doll, and the little brother loves hockey too.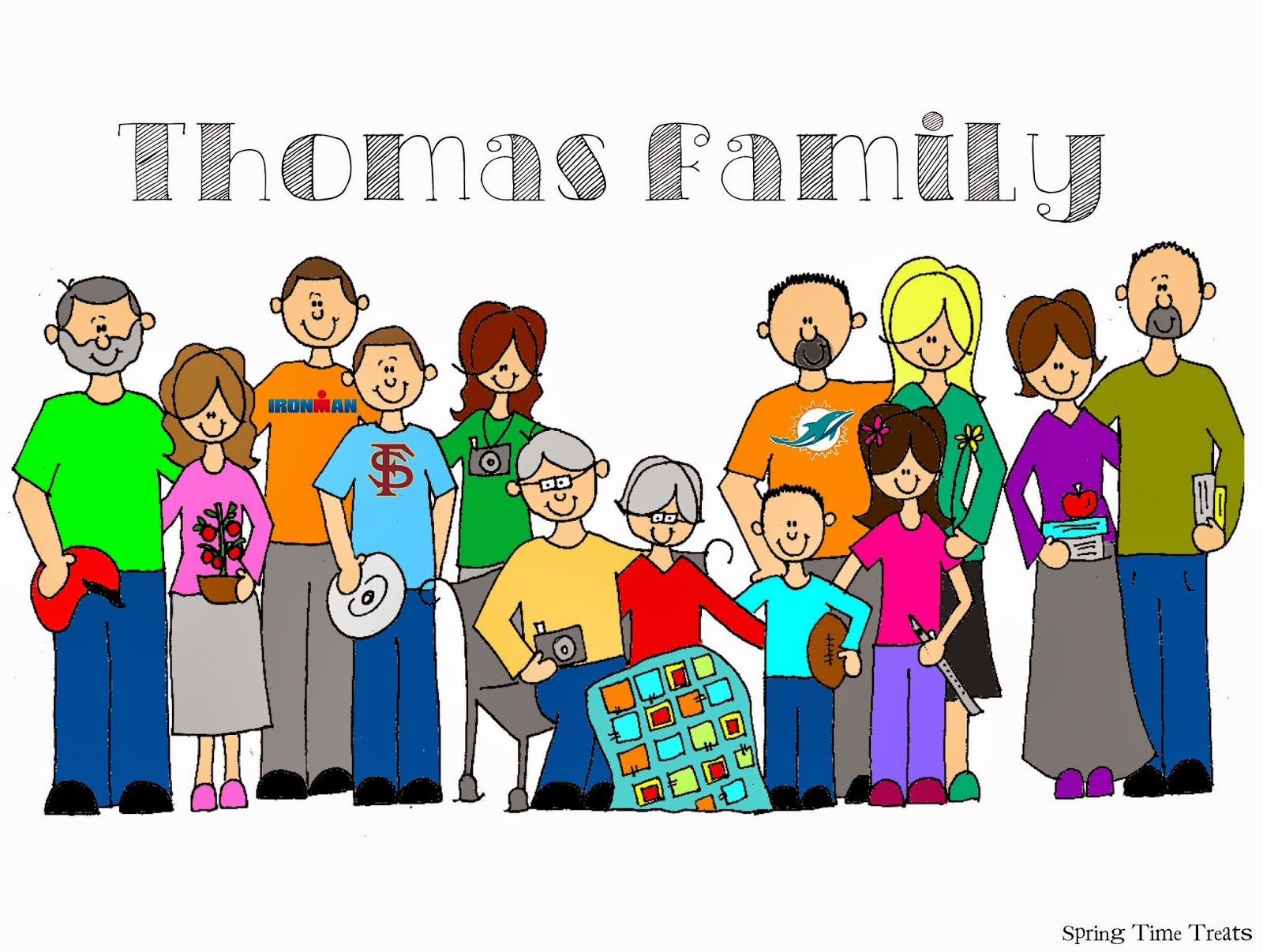 The Thomas family. This was an awesome challenge to fit as many people as I could in one picture. The picture centers around the grandparents (I'm pretty proud of the grandma's quilt) and their three children and their families. They each are holding or wearing something that represents their job, school, favorite hobby, etc. For example the dad on the far left is holding a helmet for his motorcycle, and the couple on the far right are teachers / professors.
These next four pictures were for my dear friend Megan who lives in Australia. I say dear friend, but I have never met Megan. Though our many e-mails back and forth we chatted and laughed. I asked embarrassing questions about how you say something in Australia, how you celebrate Christmas with no snow and we shared the joys and craziness of little babies. Now I adore my Aussie friend Megan.
She asked me to draw these next three pictures for her neighbors/friends.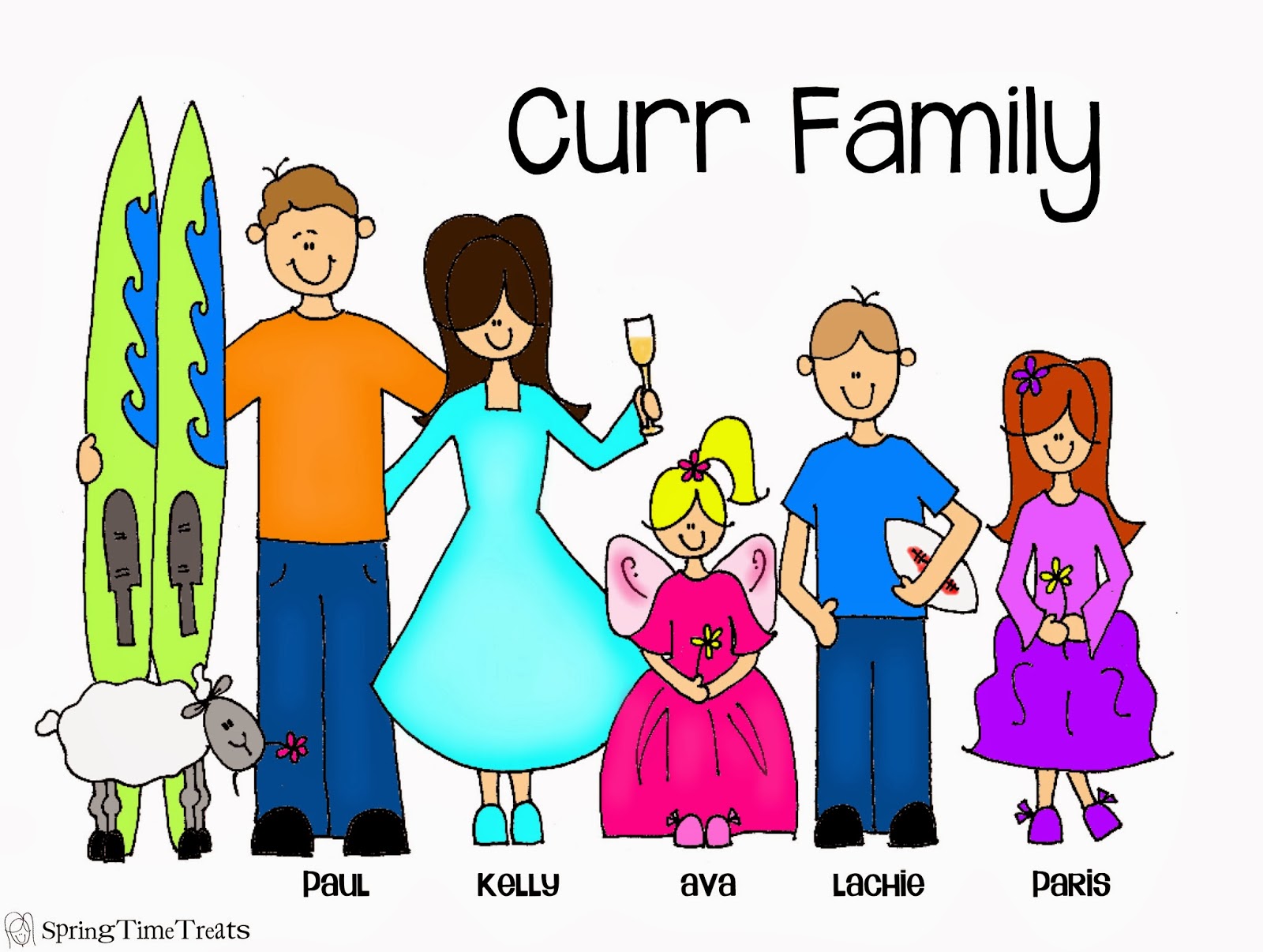 The Curr family. Dad is a sheep farmer, loves water skiing, mom loves a glass of wine. The girls love dressing up and the son likes football. I had to ask Megan if she meant "football" or what we Americans call "soccer." She was so sweet and explained that they have "football - they kind you throw" in Australia too.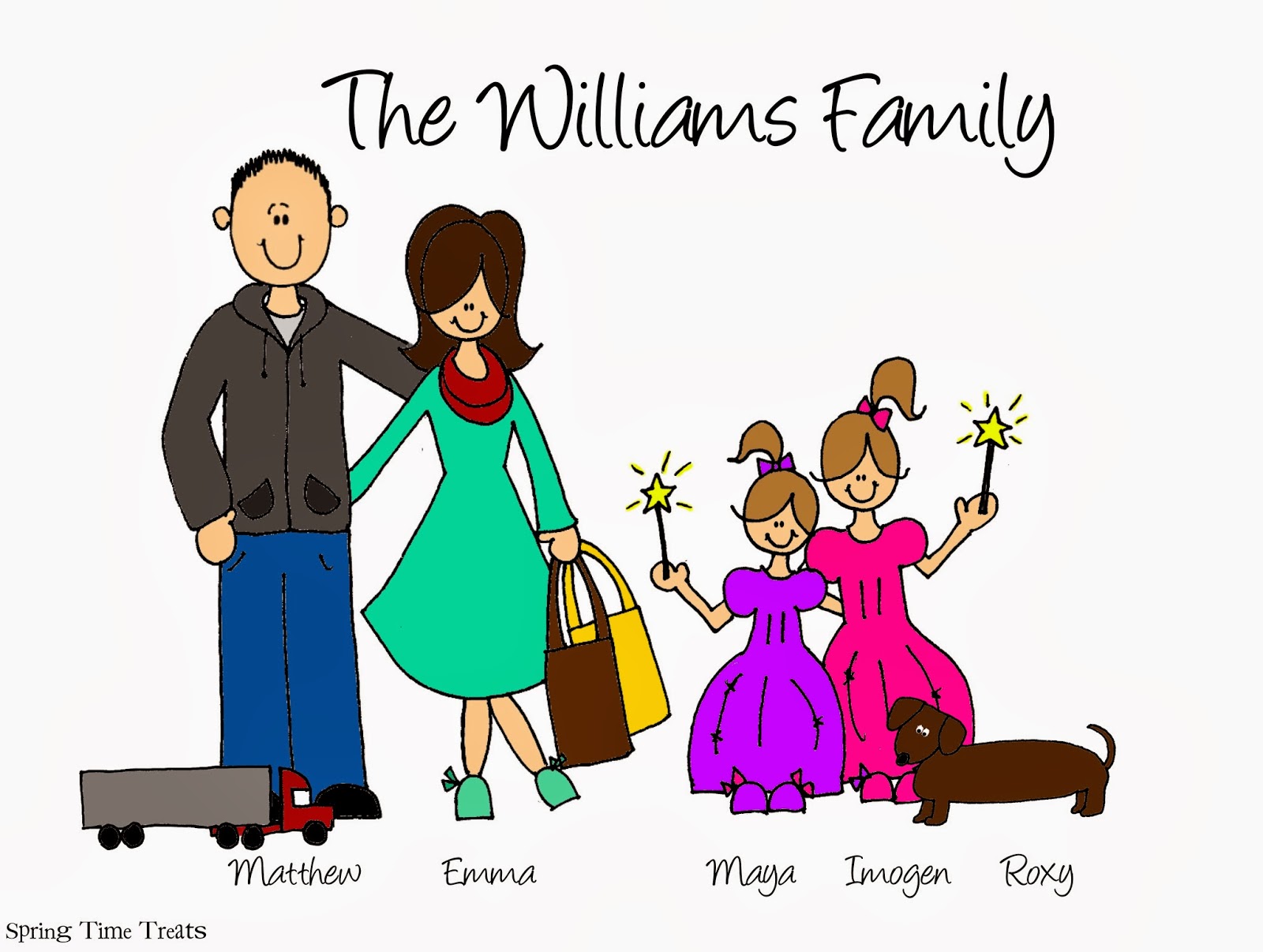 The Williams family. The dad is truck crazy and drives semi trailers. The mom adores shopping and the girls love all things princesses. And their cute "sausage dog." I had never heard the term "sausage dog." So stinking cute!
The Quade family. Okay, it's hard to pick, but I think this is my favorite. They are wheat and sheep farmers that love to grow their own food. They have chickens, pigs and obviously lots of sheep. The mom is expecting a baby soon.  Oh how I love drawing cute pregnant ladies. 
Megan sent me a picture of how she framed her pictures for her friends. Oh I hope they liked them! What a sweet gift for her neighbors.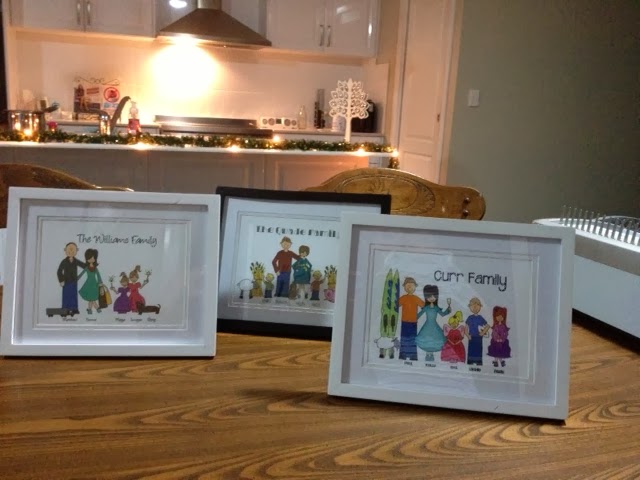 And finally Megan's picture for her family.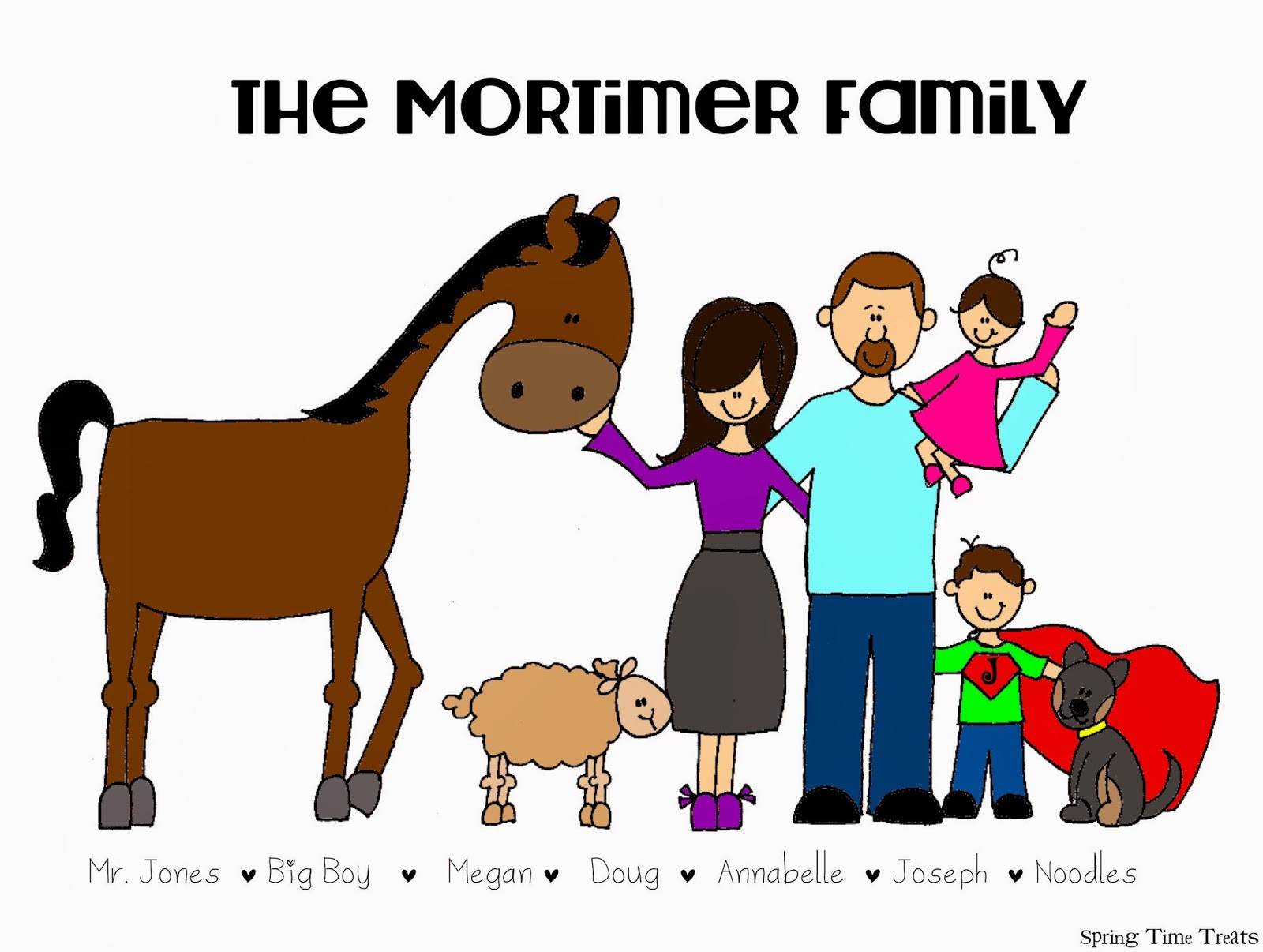 The Mortimer family. Megan loves her horse. Her husband is a sheep & wheat farmer. A beautiful baby daughter. Their son is always a super hero and loves their blue cattle dog. And their orphan lamb that they raised and now thinks he is their pet dog. 
See what I mean. Aren't these families just superb? Megan even invited me to come to Australia and hang out with her friends. I would love to hop a plane (only 14 hours) just to meet these awesome sheep and wheat farmers and go shopping with these beautiful ladies.